DESIGN YOUR OWN SOUNDS FROM SCRATCH
People sometimes complain that the stock Ableton instruments are boring. That usually means the person doesn't know what to do with them.
If you feel like this, go and switch on a real MOOG synth sometime, and listen to what comes out…. you will hear a boring flatline oscillator tone that does nothing until you change it.
In order to make complex, dynamic sounds that evolve over time, you need to know how the basic parts of a synth work. The parts you find on every synth in the world. That's what we learn in this series.
Learn to design your own sounds from scratch with Ableton's Operator synth.
THE ESSENTIAL BASICS OF SOUND DESIGN
Learn how to dial in complex, dynamic, layered sounds with Ableton's Operator synth in these Six hands-on Session Lessons™.
You'll learn the universal functions that let you walk up to any synth in the world and get the sound you imagine — without guessing.
These interactive guided Ableton Projects show you how to create your own universe of sounds, so your music will have a recognizable style, and people will know it's YOU when they hear it. Ready to start programming your own synth sounds like a modulator maniac?
The basic building block of a synth. Explore Sin, Tri, Square waves to see how much you can do with just one simple sound.
LPF, HPF, Band-Pass: Filters sound best when they're moving. When you meet a new synth, grab this first.
Shape your sound over time with Volume, Filter, Pitch and more.
Classic sound for fast repeating cascades of notes, with a few surprises that only Ableton does.
Source, Destination and Infinite wub generator. LFO's make rhythm, texture and motion in your sounds.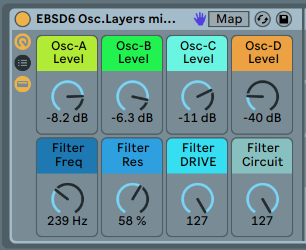 Create complex, developed sounds using layers that evolve over time.